At the crossroads of Art, Fashion, Travel and Leisure, Wavellon brings together visual artists and art aficionados around exclusive creations that take the form of bespoke limited-edition products unleashing inspiring experiences around the artist's vision and evocative locations and stories. Wavellon has been established by seasoned designer Sylvain Lambert and global product creator Marc-Antoine Benglia who have both collaborated over the past 25 years in creating technology products for consumers sold under prestigious brands around the world.
Many art lovers cannot afford to acquire original artwork from their favorite artists. By creating artistic experiences around everyday life
objects -like sports, fashion, leisure, and travel goods-, Wavellon and its partner artists offer an exclusive opportunity to own a part of a uniquely designed piece of art that is imagined and designed in tandem for a specific purpose. As products are offered in very limited numbered editions and through the artist's circle, exclusivity is one of the key attributes of our offerings. Products are usually sold out before they even ship, which in turn creates rarity. Over time, the value of each creation raises, and collectors see an interest in acquiring our creations, preserving them and naturally creating a long-term market for them. Our creations are the result of the amalgamation of three core powerful forces: the Artist, the Destination and the Experience.
the experience
Yow'22 by CLAF
YOW'22 by CLAF is part of Wavellon's Ultimate Series, an ultra-low volume creation with only five numbered inflatable stand-up paddleboards (iSUP), each featuring DREAM by CLAF as their core artwork base.
Each iSUP presents a unique authenticity label featuring its number as part of the YOW'22 by CLAF ultra-low volume Ultimate Series.
None of YOW'22 by CLAF five paddleboards is identical, each one is unique, featuring a specific color combination for its anti-slip pads and side logos. As a low production series, each of the six YOW'22 by CLAF paddleboards will see a rapid increase in value for collectors.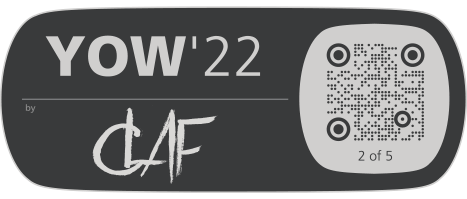 Selling for an original price of $2,499 CAD, the full paddleboard kit includes the inflatable paddleboard itself, the paddle, the carrying bag, a foot leach, the air pump, a repair kit and a smartphone waterproof pouch.
At Wavellon, we pride ourselves in offering best of breed iSUPs. Made from the latest inflatable board technology called Monocoque Structural Laminate Fusion, Wavellon iSUPs are as light as single layer PVC inflatable boards while stiffer than the heavier double layer PVC inflatable boards, offering the best compromise between rigidity and weight and supporting over 20 PSI of pressure.
Wavellon iSUPs feature a GoPro™ style attachment for attaching a camera to the front of the paddleboard for safe action filming. Our boards also offer four anchor points to affix a Kayak seat should you want to sit and paddle like you would on a standard kayak to relax or when the wind offers too much of a strong resistance for standing up. Last but not least, our iSUPs feature three fins for enhanced stability and direction on top of being very light for a full 11 feet board, making folding, transporting and storing it very easy.
specifications
Brand: Wavellon
Artwork: DREAM by CLAF
Artist: Chantal Laflamme
Destination: Ottawa
Experience: Inflatable SUP
Series: Special Series Production
Number: Ultra limited edition of 5 units
Year of Production: 2022
Board Length: 3.35 m (11 ft.)
Board Width: 83.82 cm (33 in.)
Board Depth: 15.24 cm (6 in.)
Maximum Weight Capacity: 150 kg (330 lb.)
Maximum Pressure: 22.5 PSI
Package Weight: 15.80 kg (34.76 lb.)
Construction Material:
• Monocoque Structural
• Laminate (MSL) Fusion
Accessories: Paddle, dual action hand pump, leash, smartphone dry bag, repair kit, storage backpack
Special Features:
• Stainless steel attachment rings for Kayak seat
• Motion camera base attachment
Born in La Tuque, Chantal Laflamme, known as CLAF in the painting community, grew up fascinated by Monet, Picasso, Le Corbusier. A self-taught artist with a particular sense for color and an intimate taste for architecture acquired through her varied professional experiences -styling, interior design- Chantal drew the plans of her house and created her first paintings for her children. That is when her passion for painting was born.
Since 1997, her paintings have found homes in shops, offices, clinics, sport centers and personal collections. CLAF also creates commissioned works for interior designers in Quebec and Ontario.
Established in the Ottawa National Capital Region CLAF is a member of several art and entrepreneurship associations in Québec and Ontario, and she has received many accolades, prizes, and mentions for her work in the past several years. More recently, Chantal has been invited to expose her work in galleries in Italy, Monaco and other prestigious European locations.
Determined and motivated, her artistic approach is constantly evolving, guiding her to create not only multiple formats from small canvas to larger murals but also exploring furniture painting and industrial objects creations such as her project with wavellon™, always pointing to new forms, new visions, and discoveries. CLAF's style is becoming clearer while core threads in the evolution of her style -characterized by the intensity and contrasts of color- become a guiding path where abstract lines give a glimpse of the idea of ​​an image.
For CLAF, painting is a way to explore the dynamics of contrasts. She is interested in forms between softness and hardness, fluidity and rigidity, elegance and coarseness. She seek to express these states of tension that constantly cross us, the living forces that separate us, unite us and take us elsewhere.
Throughout Chantal's work, color is explored in all its variations in order to accentuate oppositions, in particular through the amalgamation of various materials and nuanced textures. Acrylic and epoxy are the mediums exploited in an abstract style that sometimes suggests figurative elements. Cement, mirror fragments, crystals and textiles are occasionally integrated into her artwork to create an unusual sense of depth.
Inspired by modern architecture, straight, curved, broken, imposing or discreet lines, found in raw materials such as concrete, marble and steel CLAFI draws inspiration from these contrasting structures to create compositions in her image: determined, assertive and daring.
As the National Capital of Canada, Ottawa is a unique city at the crossroads of sports, technology, multi culturalism, nature and obviously native heritage. Its many lakes, bike paths, skiing slopes and trails, world famous natural ice rink, winter and summer festivals offer a unique, intimate, and lively atmosphere for its residents and visitors alike. Hosting the Federal Government, ambassies and featuring deep connections to the world, Ottawa is a cultural hub -way up north- while its human size, modern airport, YOW, evokes a feeling of simplicity, courteousness, and accessibility with a touch of modernity and sophistication in the traveler's heart. This is this identity and those colors of Ottawa that Chantal Laflamme wanted to depict through her collaboration with wavellon in creating YOW'22 by CLAF.
RESERVE A LIMITED EDITION
YOW'22 by CLAF PADDLEBOARD
Most of the YOW'22 by CLAF boards have been called for already. Should you be interested in acquiring one of the few still available, please contact us by filling the form below.
---
[contact-form-7 id="5" title="Contact form 1"]